Main Content
Ganz Exclusive Real Estate
2021 Best Of Baltimore Top Agent
As Featured In
Baltimore Magazine
2021
Best of
Baltimore
Top Agent
As Featured In Baltimore Magazine
William Ganz, Broker & Owner of Ganz Exclusive Real Estate is one of the leading real estate agents in Baltimore and represents some of the finest properties in the area.
Among other accolades, Ganz represented a record-breaking $6.25 million sale in 2017 and is consistently sought after for his unparalleled track record of success within the region. He has an extensive client base featuring those who seek the luxury lifestyle including heads of industry, celebrities, professional athletes, and investors.
He enjoys contributing to media coverage on the real estate industry and has been featured in Baltimore Magazine, The Baltimore Sun, The New York Post, Personal Real Estate Investor Magazine, Canadian Real Estate Magazine and Curbed.com with his editorial commentary and features on his real estate listings.
William graduated from Shenandoah University with a Bachelors of Business Administration (BBA) in 1999 and from Loyola College in Maryland with a Masters of Business Administration (MBA) in 2002.
When he is not pursuing real estate, Ganz enjoys travelling, boating, social golfing, and spending time with his adopted Greyhound dog Flint. The duo resides along the Inner Harbor, Baltimore waterfront.
A former collegiate baseball pitcher, Ganz placed third in the nation in strikeouts per nine innings during his senior year. Never one to shy away from risk and adventure, Ganz personally captained his first boat during a three-week nautical journey from the Gulf Coast of Florida to the Chesapeake Bay of Maryland in 2007.
William also understands the importance of giving something back to the communities in which we live and work. His community outreach efforts include working on projects with various community agencies such as Our House, The Columbia Association, Boys and Girls Clubs of America, The United Way, and donations to various animal organizations.
One of William's proudest success stories was his full sponsorship of a student athlete from the Dominican Republic who pursued his dream of attending college and playing college baseball in the United States.
It is with great pleasure that William welcomes you to Baltimore, and to his website. With years of experience in the market, he knows how crucial it is for you to find relevant, up-to- date information. The search is over. His website is designed to be your one-stop shop for real estate in Baltimore.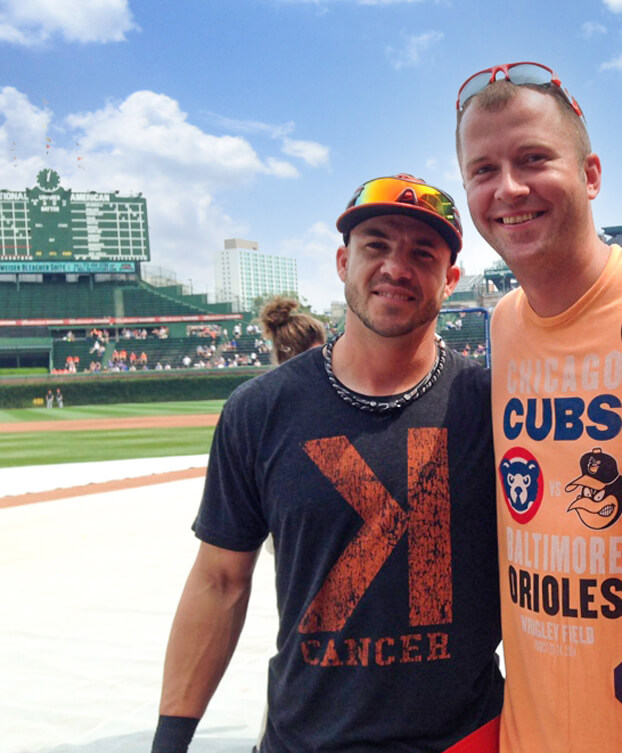 Steve Pearce
2018 World Series MVP
04 Sports & Entertainment
MLB
"Best Realtor In Baltimore." Manny Machado
2021 MLB All-Star
Most Valuable Oriole Award
Gold Glove Winner
Platinum Glove Winner
NL Silver Slugger
First Round Draft Pick
Bill did a fabulous job listing, selling and closing on our home. Extremely knowledgeable, timely, organized and easy to work with. Would highly recommend to anyone in need of a realtor.
Bill is extremely well knowledgable of the inner harbor area in Baltimore and got us a fantastic home at a great price. We recommend him fully! He was excellent at negotiating. We are very happy with our purchase and would be happy to hire him again for any and all future real estate purchases.

After seven months on the market my house was not selling, so I turned to William Ganz who is outstanding, professional and excellent in the realtor/broker world. He educated me on me the process of selling a home and what was required to accomplish that task. Mr. Ganz provided guidance, honesty and feedback through the whole process. His knowledge and professionlism are outstanding. I highly recommend him to anyone that is selling there house to get a fair/full market value. Call him today to list your property.

I honestly cannot speak highly enough of Bill and his services with us. He is incredibly knowledgable, and always responds to phone calls, emails, and texts. He knew both the ins and outs of renting and selling. Having extensive knowledge of both options was a necessity for us with the current state of events. He works at lightening speed, and his work is very thorough. We truly appreciated his seemless processes, and multitude of resources. Bill has been nothing short of stellar, and I would recommend him to anyone. We will definitely be using him again for future rentals and sales.

Bill has deep market knowledge and expertise in the Harborview Community that allows him to see key differences between units and their value. Bill responds quickly but thoughtfully to questions and supports his views with market data. He also takes pride and initiative to ensure the home is positioned to sell. I believe he achieved the best combination of price and time to close that the market could offer at the time.

Bill Ganz did a great job marketing the property, managing any needed subcontractors, staging services, opening house events, etc. I highly recommend. He and his team did a great job.

Bill Gantz is absolutely the best. His professionalism goes without saying, not to mention his ability to get the job DONE. His mannerism, attitude, and service demonstrate reliability and dependability. We are fortunate to have him as our agent and our friend.

Highly recommend Bill Ganz. He's a great partner in the process, and understood my needs and goals. He has very strong knowledge and experience of the overall process.

Bill knows his stuff. He was organized and responsive. He has a great network of professional that can help with all aspects of the process of moving and getting settled. We will definitely work with him on our next sale and purchase.

Bill, did a wonderful job. My wife and I live out of state and couldn't be present for the closing. The buyers wanted a closing in a week. Bill, went over the top to get this accomplished in time. Very few realtors would have gone to the extremes that Bill, did, to make it happen within such time constraints.
Social Media
Facebook
641 Ponte Villas North | Now Offered At $1,185,000 Move-In Ready: Freshly painted and cleaned from top to bottom!
https://media.homesight2020.com/641-Ponte-Villas-S
**EXQUISITE FEATURES INCLUDE** Five level glass elevator, two gas fireplaces, rooftop wet bar, upgraded hardwood flooring, granite countertops, gourmet kitchen with stainless steel appliances, gas cooking, wall oven and crown molding. Parking for two vehicles is provided for within the attached garage. Three exterior balconies and the spacious rooftop terrace provide ample outdoor entertaining space and panoramic city skyline & water views.
Facebook
Instagram
#soakitin
Welcome To Baltimore @coltoncowser !! #birdland
621 Ponte Villas North | Offered At $11,000 Per Month. Rarely offered, this recently renovated corner residence is just one of four St. Tropez floor plans available within the community. This prist...
Sunday Funday - Time To Get Back To Our Winning Ways !! @big_mikebaumann @ramonuriasx